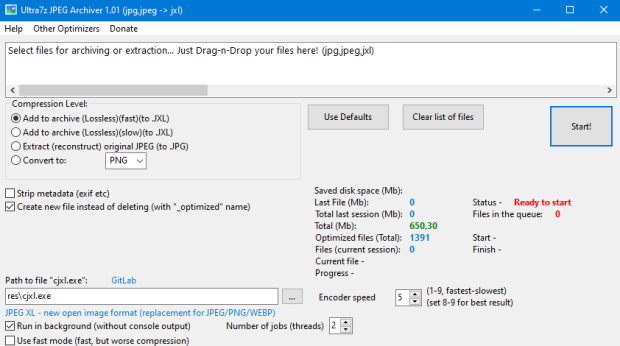 Archiver of JPEG-pictures to smaller JPEG XL files (*.jxl)! You can add to archive or extract your original photos from archive. Lossless JPEG transcoding – about 20% smaller. Existing JPEG files can be losslessly transcoded to JPEG XL, significantly reducing their size. These can be restored into the exact same JPEG file, ensuring backward compatibility with existing JPEG-based applications. These features are intended to provide a smooth transition from legacy JPEG platforms to the modern JPEG XL. Both the transcoding and restoration are computationally efficient. JPEG XL is a modern image format that provides superior lossy and lossless compression for images. Using JXL, webmasters and web developers can create smaller, richer images that make the web faster. It uses program cjxl.exe. Batch processing of files (drag-n-drop). Program optimizes your file to new one with «_optimized» name ending (source file will remain intact). Reduce the size of your image files in one click with or without quality loss!

Features:
– High compression ratio (20% smaller).
– Supported formats: jpg, jpeg, jpe.
– Lossless compression.
– You can set «Run in background (without console output)» or uncheck it for manual process control.
Compression:
– Lossless JPEG transcoding: about 20% smaller.
Features:
– Best lossless image compression.
– Progressive decoding.
– Lossless JPEG transcoding.
– Designed for both photographic and synthetic images.
– Fast software encoding and decoding.
– Full support for wide gamut and HDR.
– Perceptually optimizing reference encoder.
– FOSS and royalty-free.
Compression modes:
– Add to archive.
– Extract from archive.
– Convert to PNG.
JPEG XL uses a novel internal color space (called XYB) for high-fidelity, perceptually optimized image encoding, but it can also handle the simple YCbCr color transformation applied by JPEG.
JPEG XL offers significantly better image quality and compression ratios than legacy JPEG, plus a shorter specification. It is designed for computationally efficient encoding and decoding using software implementations without the need for additional hardware acceleration, even on mobile devices.
The following people made key contributions to the JPEG XL project: Jon Sneyers, Jyrki Alakuijala, Lode Vandevenne, Luca Versari, Jan Wassenberg.
The JPEG Committee plans to submit the JPEG XL standard as a Final Draft International Standard (FDIS) in January 2021. If approved, ISO and IEC will publish it as an International Standard in July 2021.
Run only 1 active instance of the program!
Current file has its own status in the list: «running», «done» and «saved space».
Full stats:
1. Number of optimized files (total and current session).
2. Files in the queue (quantity).
3. Saved disk space (Mb) total and for each file in the list.
(You need to save files «res\size.txt» and «res\numbers.txt» before updating, if you want to save the overall statistics («Total»)).
You can specify the path to the file «cjxl.exe» manually in a separate form.
Program uses ImageMagick for pre-convert of input files and as viewer for JXL files. ImageMagick supports jxl since version 7.0.10-54.
Size (7z): 34 Mb