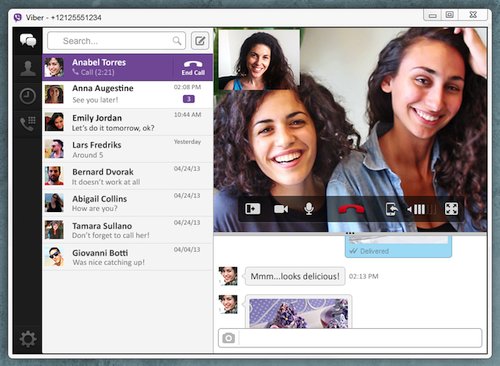 Viber for Windows lets you send free messages and make free calls to other Viber users, on any device and network, in any country! Viber syncs your contacts, messages and call history with your mobile device. Best-quality HD voice calls. Video calls. Text, photo and sticker messages. Full sync between your mobile and Windows.

Transfer ongoing calls between devices.
Download Viber, enter your phone number, and start connecting with your friends.
All the stickers from your mobile phone, now on your desktop. Just click, sync and send.
Follow Public Chats to peek inside the chats of celebrities, personalities and other public conversations on Viber.
Send messages.
Send texts, photos, videos, or files. Record quick-sending voice and instant video messages.
Make Voice and Video Calls.
Make crystal clear calls and switch to video easily.
Start Group Chats and Calls.
Family meeting, group hangout, or yoga class—everything can happen on group chat, video, or voice calls.
Join Communities.
Be part of public groups with people who share your same passions—from brands to influencers.
Share Stickers & GIFs.
Communicate genuinely, playfully, and expressively with endless stickers and GIFs.
Create stickers & GIFs.
Express yourself perfectly with your own stickers or GIFs.
Delete & Edit seen messages.
Take back what you didn't mean to send— from all members of the chat.
Set Disappearing Messages.
Add a self-destruct timer to messages for extra privacy.
Multiplatform. Always Synced.
Mobile, tablet and desktop – your chats on Viber are 100% synced between any device you use.
Use your Viber account on multiple devices.
Easily transfer calls between devices.
Share screen from desktop in video calls.
Chat even if your mobile phone is not around.
Build your Community.
Communities are the new social and the best way to bring people together. Think group chat, only with unlimited members, more admin control and new conversation features.
High quality. Low rates.
Call any landline or mobile number in the world, even if they don't have Viber.
Enhanced security features.
The information you share is safeguarded by our security systems so you never have to think twice about what you can or can't share when you're using Viber.
Protected along the way.
Messages are encrypted as they travel across the internet from your device to your recipient's.
End-to-end encryption.
Encryption keys exist on user devices and nowhere else. So, no one—not even Viber—can read your messages.
Trusted contacts.
Verify the identity of who you're chatting with by exchanging secret keys. Viber notifies you if anything about the contact's details changes.
Size (7z): 141 Mb