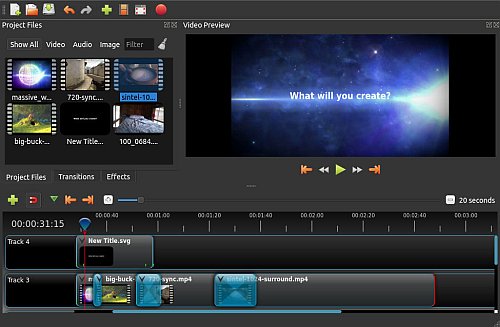 We designed OpenShot Video Editor to be an easy to use, quick to learn, and surprisingly powerful video editor. Cross-Platform. OpenShot is a cross-platform video editor, with support for Linux, Mac, and Windows. Trim & Slice. Quickly trim down your videos, and find those perfect moments. OpenShot has many easy ways to cut your video. Clips on the timeline can be adjusted in many ways, including scaling, trimming, rotation, alpha, snapping, and adjusting X,Y location. These properties can also be animated over time with just a few clicks! You can also use our transform tool to interactively resize clips. Animation & Keyframes. Using our powerful animation framework, you can fade, slide, bounce, and animate anything in your video project.

Unlimited Tracks.
Add as many layers as you need for watermarks, background videos, audio tracks, and more. Tracks are used to layer images, videos, and audio in a project. Any transparency will show through the layer below it. Tracks can also be moved up, down, or locked.
Video Effects.
Using our video effects engine, remove the background from your video, invert the colors, adjust brightness, and more. Over 400 transitions are included in OpenShot, which lets you gradually fade from one clip to another. The quickness and sharpness of the transitions can also be adjusted using keyframes (if needed). Overlapping two clips will create a new transition automatically.
OpenShot includes many video effects (with more on the way). Drag a video effect onto your clip, and adjust it's properties (many which can be animated). Adjust brightness, gamma, hue, greyscale, chroma key, and much more! Combined with transitions, animation, and time control, OpenShot is an extremely powerful video editor.
Audio Waveforms.
Visualize your audio files as waveforms, and even output the waveforms as part of your video.
Title Editor.
Adding titles to your video has never been easier. Use one of our templates, or make your own. Over 40 vector title templates are included with OpenShot, which makes adding titles to your project fun and easy. You can also create your own SVG vector titles, and use those as templates instead. Quickly adjust the font, color, and text of your titles in our built-in title editor.
3D Animations.
Render beautiful 3D animated titles and effects, such as snow, lens flares, or flying text. Render amazing 3D animations inside OpenShot, powered by the wonderful, open-source Blender application. OpenShot comes with more than 20 animations, and lets you adjust colors, sizes, length, text, and many render properties (such as reflectivity, bevel, extrude, and more).
Slow Motion & Time Effects.
Control the power of time, reversing, slowing down, and speeding up video. Use a preset or animate the playback speed and direction. Reverse the direction of a video. Or manually animate the speed and direction of your clip as you wish, using our powerful key frame animation system.
Edit Video.
Drag and drop video, audio, or images from your file manager into OpenShot. It's that easy to get started video editing.
Based on the powerful FFmpeg library, OpenShot can read and write most video and image formats. For a full list of supported formats, see the FFmpeg project. OpenShot's export dialog defaults to some of the more common formats, but with the advanced tab, you can use any FFmpeg format.
70+ Languages.
OpenShot is available in many different languages, and can be translated online with LaunchPad.
Simple User Interface.
We have designed OpenShot to be the easiest and friendliest video editing software ever! Give it a try and see for yourself.
The interface is pretty basic but offers everything you need from the standpoint of a video editing app. You can switch between the Simple and Advanced views depending on how much information you need to see on screen at any one time. On top of this, you can customise the interface to suit your needs.
OpenShot was created by Jonathan Thomas back in 2008 when he couldn't find the perfect video editor for his new Ubuntu set up.
For instance not only can you resize each section with respect to the others (increase the size of the preview pane and the project and timeline sections shrink to accommodate for instance). You can move panes around to other parts of the interface and those that are already there, resize themselves automatically to make room for it. You can also turn different panels into floating windows.
You can import a variety of file formats from audio files, still photos and multiple types of video codecs, including 4K, and have access to an impressive number of transitions and 14 effects. Unlike some other video editing apps, you can add any kind of media to those layers: you can place an audio track next to a video track on the same layer for instance, or an audio clip above a video clip.
Titles are added via a floating window: you choose the one you wish to use from a list, type in your text in the required fields, change the font and colour to your liking, and OpenShot will then convert that template into a still image and place it in your Media pane. Keyframe animation works pretty well – it's all done via the Properties pane where most of the values on display are keyframable.
Size (7z): 210 Mb