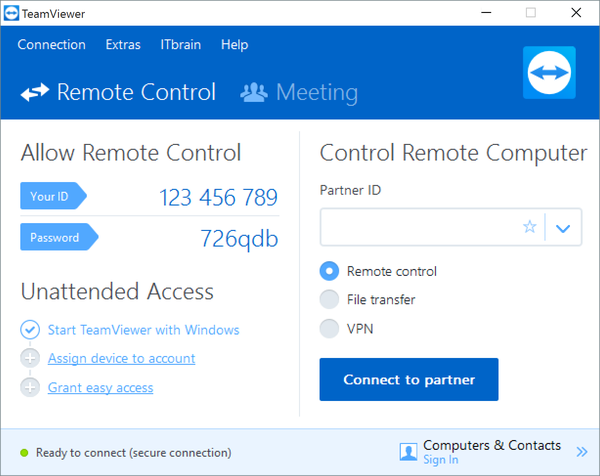 The one-step solution for remote access. TeamViewer is the fast, simple and friendly solution for remote access over the Internet – all applications in one single, very affordable module. Remote control of computers over the Internet. Instantly take control over a computer anywhere on the Internet, even through firewalls. No installation required, just use it fast and secure. Training, sales and teamwork. TeamViewer can also be used to present your desktop to a partner on the Internet. Show and share your software, PowerPoint presentations etc. File transfer, chat and more. Share your files, chat, switch the direction during a teamwork session, and a lot more is included in TeamViewer.

Empowering secure remote desktop access and support. TeamViewer connects people, places and things around the world on the widest array of platforms and technologies.
Save time and money. With TeamViewer, all the tools you need to stay connected are at your fingertips. Whether accessing your office PC from the road, video conferencing across town, or sharing your screen for remote support from the other side of the world, our tools can help reduce travel costs and downtime by keeping all your people and devices connected.
Focus on your work, not getting it to work. How many hours do you lose in your business just trying to get things to work or access to the tools you need? TeamViewer's remote solutions are designed to get you working, or help on any device—in seconds.
Feel safe and secure. TeamViewer's dedication to security means you won't have to worry whether confidential files or sensitive information is at risk when connecting to devices. Private data, private conversations, and private meetings stay that way.
Maximum compatibility.
TeamViewer runs on the broadest spectrum of devices and operating systems ranging from state-of-the-art systems with the latest OS to older devices and legacy operating systems.
No configuration.
Start and use TeamViewer instantly. TeamViewer even works behind firewalls and automatically detects any proxy configuration.
Easy to understand.
Enjoy a state-of-the-art user interface that is clearly arranged, simple, touch-friendly, and quick to operate.
High performance.
Intelligent connection setup and routing, efficient use of bandwidth, fast data transmissions, remote session framerates up to 60 fps, hardware acceleration, and automatic quality adjustments ensure an optimized user experience.
High security.
TeamViewer utilizes RSA 2048 public/private key exchange, AES (256 bit) session encryption end to end, random passwords for one-time access, optional two-factor authentication, and access controls via trusted devices as well as black- and whitelists.
International. TeamViewer is available in more than 30 languages and supports international keyboards, which makes it an ideal solution for international use.
Free for testing and personal use. Test TeamViewer for free, without having to provide any personal information. Also, use the software at home for personal use free of charge.
Computers & Contacts management. Arrange, group, and share your computers and contacts as needed. Receive alerts for important notifications. See recent connections and when contacts are online in order to send messages or connect instantly with just one click. Automatically discover nearby contacts and devices to make collaboration and interaction even easier.
Integrated monitoring checks. By assigning a device to your TeamViewer account, TeamViewer sends you alerts regarding disk space, Windows updates, antivirus protection, and Windows firewall.
Chat. Instant messaging functionality includes group chats, web-based chats, offline messaging, chat history, persistent chat groups, customer-initiated chat from service cases, full support for mobile devices, and end-to-end encryption.
File transfer. Share files of any size with transfer speeds up to 200 MB/s by using convenient methods such as a file manager, contextual menus, drag & drop, and a file box that can link to cloud storage providers.
Whiteboard. During remote control or meeting sessions, use an online whiteboard that includes numerous shapes, pens, markers, and a speech bubble.
Remote audio and video. Hear music or system sounds and see videos from the remote computer during a connection.
High-definition VoIP. Enjoy the clarity of high definition audio quality with automatic noise reduction and echo cancellation during Voice over IP transmissions.
Session recording. Record remote control or meeting sessions (including sound, Voice over IP, video, and webcam images) with simple conversion into the AVI video format. Session recording can also be enforced.
Ultra-high definition. By means of intelligent scaling, TeamViewer provides flawless connections to UHD displays for both remote control and meeting sessions.
Direct control. Establish remote desktop connections to a computer or Android or Windows 10 mobile device and control it as if it were right in front of you.
24/7 access. Install TeamViewer as a system service to enable access to remote devices at any time, ideal for accessing unattended devices such as remote servers.
For your work environment. TeamViewer supports user account control (UAC), direct LAN connections via TCP/IP, and a true virtual private network (VPN) channel – in addition to pure desktop sharing.
Wake-on-LAN. Wake up your computer via another computer using TeamViewer within the local network or via a router.
Restart the remote computer with automatic subsequent reconnection – even in safe mode.
Remotely update any installed version of TeamViewer or even remotely install TeamViewer (full version or Host) via TeamViewer QuickSupport.
Remote printing. Conveniently print full-color documents from the remote computer to your local printer. Locally installed printers are automatically detected by TeamViewer.
Synchronous clipboard. Copy and paste files, images, and text from one computer to another via the clipboard.
Special keys. Easily send special key combinations to the remote device (e.g. Ctrl+Alt+Del) even if you're using a completely different operating system such as on a mobile device.
Screen sharing. Share your screen at any time or select only the window of a particular application to share. Escalate chats or video calls into full presentations by sharing your screen at any time.
Size (7z): 61 Mb