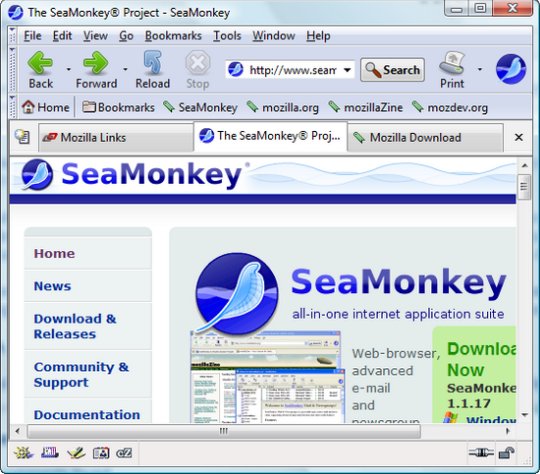 Web-browser, advanced e-mail and newsgroup client, IRC chat client, and HTML editing made simple – all your Internet needs in one application. The SeaMonkey project is a community effort to develop the SeaMonkey all-in-one internet application suite. Such a software suite was previously made popular by Netscape and Mozilla, and the SeaMonkey project continues to develop and deliver high-quality updates to this concept. Containing an Internet browser, email & newsgroup client, HTML editor, IRC chat and web development tools, SeaMonkey is sure to appeal to advanced users, web developers and corporate users.

Powered by Mozilla Under the hood, SeaMonkey uses much of the same Mozilla source code which powers such successful siblings as Firefox, Thunderbird, Camino, Sunbird and Miro. Legal backing is provided by the Mozilla Foundation.
Features of the SeaMonkey Suite
Browser ("Navigator")
Tabbed browsing gives you a better way to surf the net. You no longer have to open one page at a time. With tabbed browsing, open several pages at once with one click. Plus, your homepage can be multiple pages, in tabs.
Popup blocker lets you surf the web without interruption from annoying ads.
Image Manager lets you block images to remove offensive images or speed up the rendering of web sites.
Find as you type gives you another way to navigate a page. Just start typing to jump from link to link or to find a word or phrase within a page.
Plus all the features a modern browser should have including: Advanced security settings; Password, Download, and Cookie managers; Themes; multi-language and multi-platform support; and, the latest in Web Standards.
Mail & Newsgroups
Junk mail controls helps you take back control of your e-mail from spammers. SeaMonkey's adaptive junk mail control gets smarter with use and is personalized to the e-mail that you receive.
Manage your mail with customizable Labels and Mail Views. Color code your e-mail to help you prioritize. Sort your mail with views to help you through your e-mail much faster.
Multiple Accounts support helps you manage all your mail through one interface.
SeaMonkey Messenger includes Enterprise ready features such as S/MIME, return receipts, Address Books, LDAP support, and digital signing.
Composer
Size (7z): 84 Mb