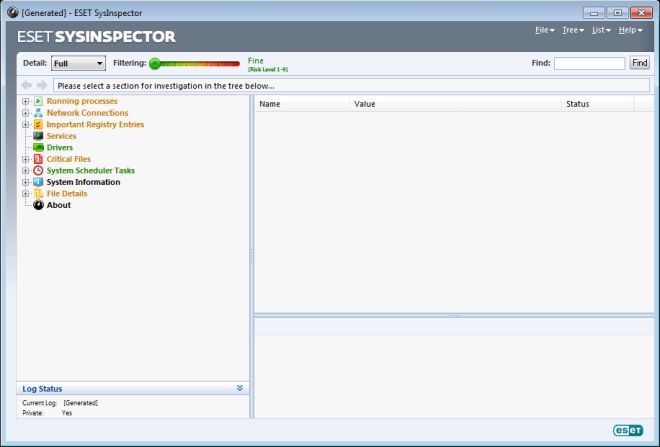 ESET SysInspector is a new, free utility program from ESET, the developer of ESET Smart Security and ESET NOD32 Antivirus. While not an anti-malware program, per se, it can be used to examine malware-affected systems as well as for troubleshooting a variety of issues. Currently, ESET SysInspector functions as a «read-only» program. It is designed to collect information only and does not make any changes to the computer on which it is running. Easily identify problems. ESET SysInspector assigns each entry a color-coded risk level. Simply move the slider to filter out the most severe issues you want to prioritize.

Each time ESET SysInspector is run, it examines the system to precisely determine its configuration. This process may take several minutes, depending upon the speed of your computer and the software installed on it. When ESET SysInspector has completed cataloging the system, it displays this information in its graphical user interface.
Solve problems. While best used to track down the presence of malicious code, ESET SysInspector also comes in handy when resolving issues related to:
Running processes and services.
Presence of suspicious and unsigned files.
Software issues.
Hardware incompatibility.
Outdated or malfunctioning drivers.
An unpatched operating system.
Broken registry entries.
Suspicious network connections.
Additionally, the «Compare Logs» functionality allows you to keep track of system modifications simplifying the process of identifying potential problems.
ESET SysInspector is available for Microsoft Windows 2000 and newer. Both 32-bit (x86) and 64-bit (x64) versions of Windows are supported.
Size (7z): 6 Mb