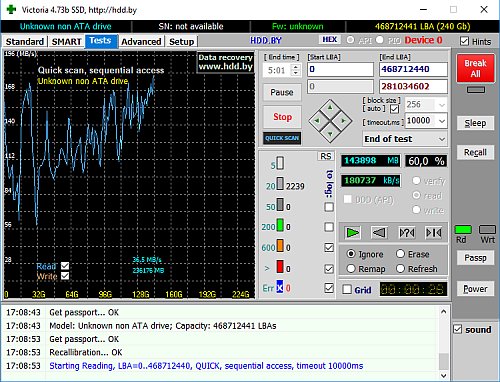 Victoria is a free, yet experimental hard drive tool which can be used to monitor the performance of your hard drive. The program can be useful to measure the performance of your hard drive and in case of issues, perform some minor repairs. It will display your hard drive model, size, features and some more advanced information from S.M.A.R.T. details. After scanning your hard drive's surface with Victoria, it can remap, erase and even restore data when errors are spotted. The application provides a number of configuration options as well as some advanced tools for working with hard drives. All in all, Victoria is a very handy hard drive benchmark tool which can also repair some errors.

Features and highlights:
No CPU load at idle.
User-friendly interface.
Multi-tasking.
Supports these interfaces: IDE and Serial ATA.
View full technical information on drives.
Compability and license.
Victoria is licensed as freeware for the Windows (32-bit and 64-bit) operating system / platform from hard drive software without restrictions.
An experimental program to analyse your HDD, so you can see the health and the performance in detail. It can also perform surface tests.
If you're the type of person who doesn't prefer storing files on external devices like CDs, DVDs or USB flash drives and decides to save files exclusively on the HDD/SSD, you might want to make sure nothing that will cause the loss of your documents will happen.
One simple way of doing that is by merely keeping an eye on your hard disk drive's performance stats and without the help of specialized, third-party software solutions such as Victoria HDD Utility, that would be almost impossible.
Track your hard drive's well-being.
This application was designed to help you assess the performance of your hard disk drive by providing you with a wide range of useful insight data, but it can also be used to test for minor issues and even repair them if possible.
Among the details the app is able to analyze you can find the hard disk's model, disk size, features, and total size, but also more advanced ones such as S.M.A.R.T. attributes (Self-Monitoring, Analysis, and Reporting Technology), including the raw read error rate, number of spin-up times, seek error rate, start/stop count and power-on time.
Perform scans
As mentioned above, you can use Victoria to perform surface scans on your HDDs in order to identify potential issues. Each sector that's subjected to the scan is marked according to its performance index.
The application is able to ignore, remap, erase or restore the data in sectors where errors were detected, providing you with several possibilities regarding the course of action you want to follow in this situation.
Simple configuration menu.
If you're the tinkerer type, you might want to adjust some of the application's settings, which can be easily done by accessing the "Setup" tab in the main window of the program.
Some settings regarding the program's functionality and interface are recommended for advanced users. These include the timeout length for various procedures, some common presets and passport options, but also some settings that are related to the surface scanning.
Handy HDD benchmark tool.
To sum it up, Victoria is a comprehensive tool that can come in handy quite often. Its intuitive layout and overall simplicity make it quite easy to work with for all users, regardless of how experienced they are with this type of programs.
Size (7z): 6 Mb