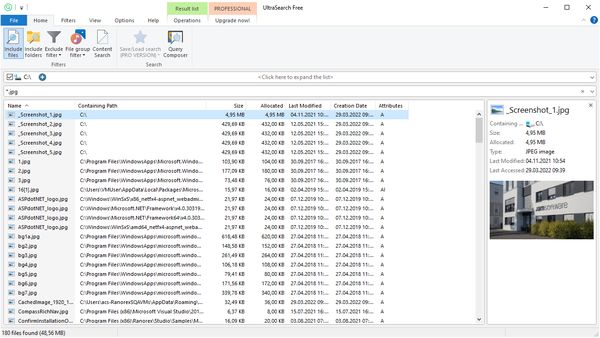 UltraSearch by Jam Software is a fast and efficient file search program for your computer. It is designed for users who require quick and accurate file searching on their hard drives. One of the key features of UltraSearch is its high search speed. It utilizes special indexing algorithms that scan the hard drive and create a fast and efficient file index. As a result, searches are performed instantly, allowing users to quickly find the files they need. It supports file searches by name, type, size, and creation or modification date. Users can specify specific folders or drives to be scanned and can apply filters to refine search results. This enables rapid retrieval of desired files, even if they are located deep within the file system.

The program offers a simple and intuitive interface, making the search process easy and convenient. It also provides additional features such as file preview, allowing users to quickly assess file content without the need to open them.
UltraSearch is compatible with various Windows operating systems and can be installed on a computer with minimal effort. It does not require lengthy indexing or database creation processes, saving time and computer resources.
It is important to note that UltraSearch is solely a file search program and does not provide editing or deletion capabilities. Its main purpose is to provide fast access to files on your computer.
In conclusion, UltraSearch by Jam Software offers a convenient and swift way to locate files on your computer. With its high search speed and user-friendly interface, users can easily find the files they need and save time when dealing with large amounts of data.
Size (7z): 11 Mb