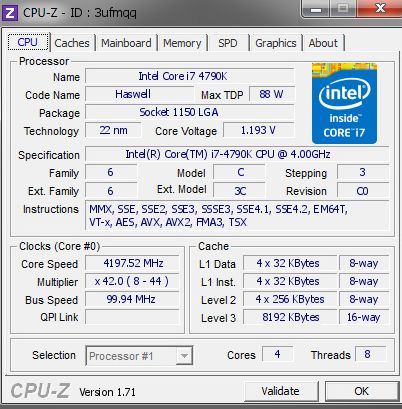 CPU-Z is a Windows program designed to provide users with detailed information about their computer's hardware. This program is useful for anyone who wants to monitor their system's performance, identify the components of their computer, or troubleshoot issues related to hardware. When you open the program, CPU-Z will display a variety of information on the screen, including your computer's processor, motherboard, memory, and graphics card. Each component is listed separately, along with its specifications, such as the clock speed, cache size, and voltage.

The program also includes real-time monitoring tools that allow you to keep an eye on your computer's performance, such as the CPU usage, memory usage, and temperature. This can help you identify any potential issues with your system and take action to resolve them.
One of the key features of CPU-Z is its ability to generate reports about your computer's hardware. This is useful if you need to share information about your system with others or if you need to provide detailed information when seeking technical support. The reports can be saved in a variety of formats, including text, HTML, and XML.
Another useful feature of CPU-Z is its ability to detect and identify installed software on your system, such as the operating system, antivirus software, and other utilities. This can be helpful when troubleshooting issues related to software compatibility or identifying potential security risks.
Overall, CPU-Z is a powerful and versatile program that can provide valuable insights into your computer's hardware and performance. Whether you're a gamer, a power user, or a technical support professional, this program can help you optimize your system and resolve any issues that may arise.
CPU-Z is a program that gathers information on some of the main devices of your system. CPU. Name and number. Core stepping and process. Package. Core voltage. Internal and external clocks, clock multiplier. Supported instructions sets. Cache information. Mainboard. Vendor, model and revision. BIOS model and date. Chipset (northbridge and southbridge) and sensor. Graphic interface. Real time measurement of each core's internal frequency, memory frequency.
Memory.
Frequency and timings.
Module(s) specification using SPD (Serial Presence Detect) : vendor, serial number, timings table.
System.
Windows and DirectX version.
A complete report, that includes CPUID, MSR, PCI device list, SPD, DMI.
A cache latency calculation tool.
L1 to L3 cache information: location, size, speed, technology.
Partial overclock detection.
Anyone who expects their PC to be in tip-top shape must first and foremost be aware of its capabilities and potential, and for that, it's best to employ a dedicated software utility. CPU-Z is one such application serving an informative purpose, what with its ability to reveal all sorts of details on your processor, memory, cores, and more, so that you know how to make the best of your computer.
the Bench tab offers a real-time assessment of your computer's performance. To be more specific, it can carry out a single- or multi-thread analysis, with the possibility of using a multitude of references in order to make relevant comparisons.
CPU-Z offers a comprehensive evaluation of your PC's capabilities that you can turn into HTML or TXT reports in the blink of an eye. The app has an almost invisible memory footprint, proposes a clear-cut user interface, and all the data it gathers is offered in real time, so all things considered, it has all the prerogatives of a reliable tool of its kind.
Validate the authenticity of your current system settings by submitting it in the CPU-Z Database. It's simple and free: just use the "Validate" button within CPU-Z then click "Submit" for an instant, 100% automatic submission. You will receive a link to your complete system specs, including the validated status of your computer. The perfect way to share your awesome brand new hardware specs with your friends and, if something goes wrong, an invaluable tool to ask for some help on enthusiasts forums. CPU-Z Validation is also the world-recognized standard for certified Overclocking. Give you a chance to enter in our Hall of Fame!
Size (7z): 10 Mb