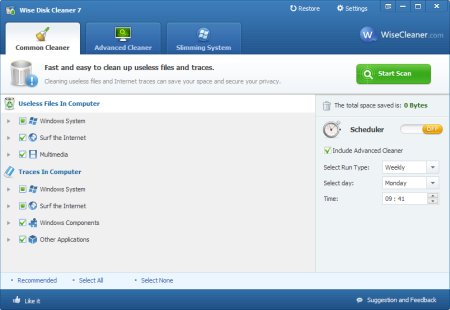 Wise Disk Cleaner is a user friendly, fast and easy to use application developed to free up disk space by deleting junk files that are no longer used by any software on your system. Even the least experienced user can easily remove junk files with this tool. Your hard disk is littered with junk files you don't need, taking up precious hard disk space, and potentially slowing down your PC's performance. There are files of all kinds, such as temporary files that applications should delete when they're no longer needed, and various log files, index files and backup files. You'd be amazed at how much space these junk files take up.

Securely Cleans Up Useless Files and Makes Your Computer Run Faster. Over time, junk files, temporary files, all kinds of system files and other items you do not need at all accumulate on your Windows Computer. Those useless files take up valuable hard disk space and slow down your computer. Wise Disk Cleaner can delete these unnecessary files on your hard disk to free up disk space and make your computer run faster. It also provides many custom options to allow advanced users to clean up more files they don't need. Equipped with advanced algorithms, Wise Disk Cleaner can scan and remove them within seconds, making it one of the most efficient disk cleaners out there.
Wise Disk Cleaner can identify more than 50 types of junk files, and you can customize the list. The program only deletes the files that you tell it to. You can choose to have the files permanently deleted, or else first moved to the Recycle Bin. And you can have the program do the cleanup automatically, or you can do it manually. You'll be amazed at how much hard disk space this program can gain for you, so automatically got back plenty of hard disk space. (For example: On my laptop, it found 872 MB of junk.
Cleans Internet History and Other Traces on Your Computer – Protecting Your Privacy. Wise Disk Cleaner can clean Internet histories, cache files, and cookies of Internet Explorer, Chrome, Firefox, Opera and Safari browsers. It also detects and cleans all other traces caused by Windows System, components and other applications. By removing all these traces thoroughly, your privacy will be well protected from prying eyes.
Improve Your PC performance by defragging and re-arranging files on Your Disk. Your hard disk drive will get fragmented over time. Fragmentation makes your hard disk do extra work that can slow down your computer. The 'Disk Defrag' feature of Wise Disk Cleaner can rearrange fragmented data so your disks and drives can work more efficiently. 'Disk Defrag' also offers you a clear graphic chart of the selected drive, letting you know the drive usage at a glance. You can also use it to analyze and defragment any external storage devices.)
Size (7z): 4 Mb