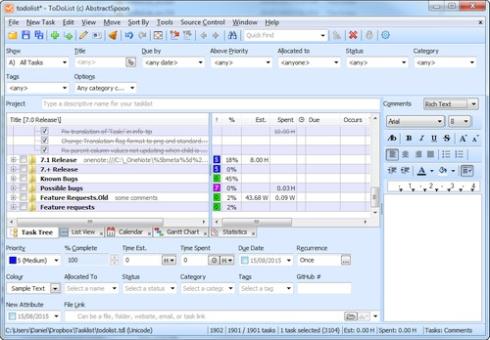 ToDoList is a hierarchical task manager that allows you to repeatedly sub-divide your tasks into more manageable pieces, which makes it ideal for IT-related projects as well as more general activities. Each task can be given a wide variety of attributes including priority, risk, color, category, and many more. Viewable in tree, list, or calendar format, and includes native XML support for custom reporting.

Created lists can be exported to a variety of formats including HTML, ICS (calendar), speadsheet, and more. Supports remote todolists and encryption for security.
ToDoList is a jack-of-all-trades organizer software that goes far beyond managing shopping lists. The tool allows to create short and precise task lists but also handles complex project flows. ToDoList presents tasks in a tree-view and visualizes their dependencies. Single project tasks are assigned individual priorities that can be adjusted or marked as done at any time. Additionally, comments simplify the understanding of tasks and allow team members or stakeholders to follow the progress of the project. To-do lists can be shared with users on local networks.
Size (7z): 3 Mb