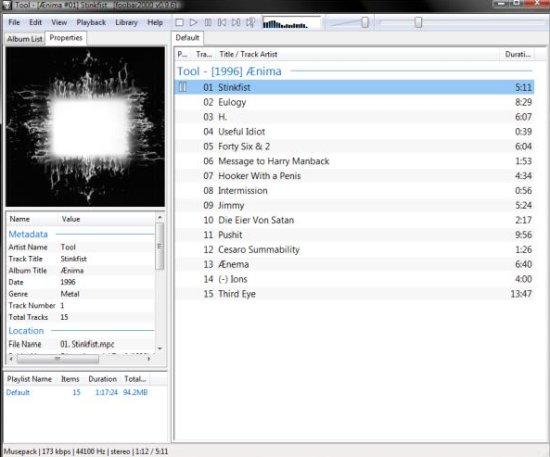 Foobar2000 is an advanced audio player for the Windows platform. Some of the basic features include full unicode support, ReplayGain support and native support for several popular audio formats. Supported audio formats: MP3, MP4, AAC, CD Audio, WMA, Vorbis, FLAC, WavPack, WAV, AIFF, Musepack, Speex, AU, SND… and more with additional components. Gapless playback. Full unicode support. Easily customizable user interface layout. Advanced tagging capabilities. Support for ripping Audio CDs as well as transcoding all supported audio formats using the Converter compnent.

Full ReplayGain support.
Customizable keyboard shortcuts.
Open component architecture allowing third-party developers to extend functionality of the player.
foobar2000 supports many audio file formats, has many features for organising metadata, files, and folders, and has a converter interface for use with command line encoders. To maximize audio fidelity in cases where resampling or downscaling in bit depth is required, it provides noise shaping and dithering.
The player can read inside ZIP, GZIP, and RAR archives.
Size (7z): 39 Mb